RavenousTravellers may earn a commission on sales through our affiliate links in this blog post. This commission allows us to run our research, testing process and continue to provide our readers the most comprehensive information on kayaks, boats and related products. See our
disclosures
.
The best 24-volt trolling motor is what you need for your inflatable boat if you want to enjoy seamless navigation. Trolling motors have different power capacities, but a 24-volt motor is a modern standard today for boats that are 10ft and longer. Not only are such motors strong enough to carry all the weight on board, but with they also have advanced features to make the user experience worth the while.
Below, we review some of the best 24-volt trolling motors money can buy and end the review with a buying guide. Please feel free to read until the end and make your choice based on our selection and guide. The information gathered here is all you need to make your selection for the best 24 Volt trolling Motor.
Best 24 Volt Trolling Motor Summary
| | |
| --- | --- |
| Parkho Haswing | Best for silent fishing |
| Aquos Haswing | Best lightweight trolling motor |
| Mtorguide X3 Freshwater | Best for freshwater fishing |
| Motorguide Xi5 Freshwater | Best wireless trolling motor |
| Minn Kota Ultera | Best trolling motor with advanced functions |
| Newport NV-Series | Best for saltwater fishing |
| | |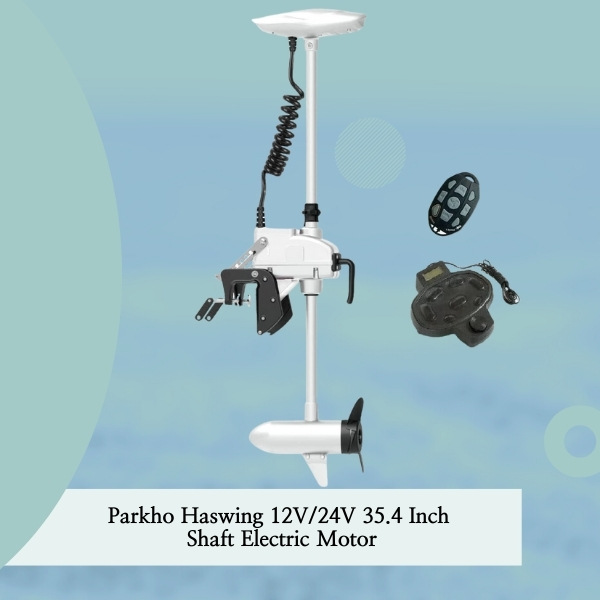 Parkho Haswing 12V/24V 35.4 Inch Shaft Electric Motor
Parkho trolling motor is a 35.4 shaft motor with a brushless transom mount bracket. This system is designed to run uninterruptedly and efficiently. The ultra-quiet system makes it a worthy motor for fishing because it will not scare away fishes ad you approach their habitat. Parkho has several variable speed functions to alter your speed, so increasing or decreasing your speed at short notice is possible. The manufacturer has included the right settings to give you maximum control over operations alongside the right adjustments.
Parkho boasts digital technology in its makeup for stress-free forward movements, including an efficient reverse speed control with the same handle so you can retrace your position without having to make wide turns. You don't need cumbersome pedals, just the step-less controller, which you can control by hand to regulate your speed. Furthermore, the Smart interface adds value to the user experience, which not many trolling motors can boast of.
Let's not forget to mention that this trolling motor has a foldable design that allows you to fold it and to also further expand it by 400mm if you so wish. There is also a 7-10 level motor tilting position to pick from, including advanced full motor pilot control functions. You enjoy greater flexibility, maximum control, and comfort amidst strong winds and currents. With Parkho, you can go wrong.
Pros
Advanced integrated technology
Foldable handle for convenience
Magnetic kill switch
Reverse power
Cons
It does not have wireless control
It lacks a memory system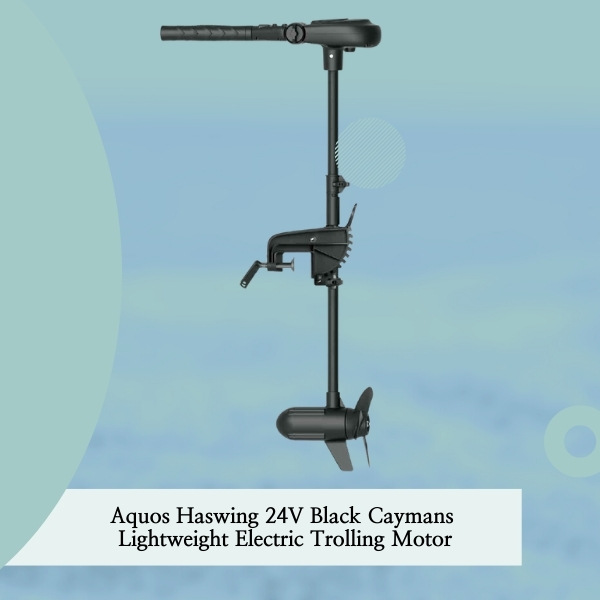 Parkho Haswing 12V/24V 35.4 Inch Shaft Electric Motor
If you fish in freshwater and saltwater regularly, you should be looking to buy a trolling motor that is comfortable in both to get the best outcome. Aquos Haswing 24V motor is a durable marine engine for both elements. This 54 inches shaft engine is lightweight at 80lbs with a quick-release bracket and string foot control. The design of this motor makes it a very practical solution for fishing inflatable boats. The first thing we like about it is the variable speed and smoother adjustment control function. By lowering the speed when you don't need to move too fast, you conserve battery life.
Secondly, for all its maximum power, Aquos only weighs 80lbs, making it a truly lightweight motor. But despite its lightweight, this trolling motor will power a boast weighing about 4000lbs which is more than 40 times its own weight. There is a remote control to control the motor if you don't want to use the steering, and the remote is recharged with a power bank. Included in the design is a 14.7ft cable wire foot control and a quick-release bracket. Navigation in string currents is something you will do easily with Aquos, especially when you want to alter courses by making 180 degrees wide turns.
The 54-inch shaft makes it a flexible option for different boat types; transporting it should not be a problem either since it comes with a handle of its own for easy lifting. Sailing is made easy with this 24-volt trolling motor. Investing in it will give you several years of service.
Pros
Corrosion-resistant body
Simple controls
Easy to set up
Cons
The reverse setting needs manual configuration
Motorguide X3 Freshwater Trolling Motor
12 new from $735.28

Third, in line, is Motorguide X3 freshwater trolling motor with a foot control bow mount. This trolling motor weighs just 70 lbs but is durable and delivers excellent performance on the water. X3 is a great choice for anglers who want engines with a deep thrust and first-class steering performance. There is a dual-pull cable steering system that can eliminate slack, including a special Variable Ratio Technology for reducing torque steer feedback and increasing system responsiveness.
Motorguide X3 is made with quality rigid grade aircraft aluminum mount with stainless steel bushings, a set of the composite shaft, and an outer shaft. You enjoy a lifetime quality guarantee because the body parts will not rust. In addition, Motorguide X3 is quiet in water due to the composite locking pins in the engine and precision bearings. These spare parts work in perfect harmony to reduce noise, especially when you rev the engine or accelerate.
With Motorguide X3, you enjoy value for money at all times. The design also allows you to adjust the installation height, and you can also remove the motor easily anytime you want. So consider the X3 if you are looking to buy a motor with an extra-long shaft.
Pros
Easy deployment and stow
Very stable base
Durable stainless steel bushings
Durable and rugged
Cons
Lacks wireless control or smart features
Motorguide Xi5 Freshwater Wireless Bow Mount Trolling Motor
40 new from $1,999.99
1 used from $1,283.52
Free shipping
The last Motorguide motor we just reviewed is not wireless, but this Xi5 motor by the same manufacturer is wireless and far more advanced. We will even go a step further to say that it is one of the best trolling motors by Motorguide and definitely one of the best in the market. This wireless motor has a 45-inch shaft with an 80-pound thrust. Xi5 has sonar and GPS technology for tracking fishes underwater. Some analysts also believe that its GPS system offers users pinpoint accuracy with triple precision control and a much tighter hold on anchor points
Motorguide Xi5 is a dynamic trolling motor ideal for fishing because it is compatible with different fish finder brands like Lowrance, Mercury VesselView, and even Simrad. By combining fish finders with this compatible trolling motor, your fishing trips will take a new turn for the better. You get a complete screen and motor function combination to improve your fishing. Additionally, Motorguide Xi5 can be operated using the wireless foot pedal wherever you may be in the boat due to its efficiency.
It has a built-in 83/2000 sonar transducer that will not only bring fishes to your notice but also help you identify their structure. Moreover, you can also track them even when they are far away from your current location. Another area where the Xi5 ranks well are the peak thrust of the engine. The 45-inch long shaft has a triple-blade glass-filled propel that cuts through the water effortlessly. Combine that with a battery meter, variable speed controls, and the wireless foot controller, and you have a reliable motor on your hands.
Pros
Quiet operation
Intuitive design
Advanced features
Easy wireless control
Cons
Expensive
It is not compatible with the Hummingbird fish finder
Minn Kota Ulterra 80lbs Mega Down Imaging Trolling Motor
Minn Kota is an industry leader as far as marine motors and accessories are concerned, and this trolling motor is one of the best among their collection of freshwater motors. This model is the I-Pilot Link. Minn Kota claims that Ulterra is the only trolling motor in the industry that can deploy and stow itself with a single click of a button. It has upgraded features, including the i-Pilot Link remote and a foot pedal. It is also compatible with the Hummingbird fish finder, but this will have to be bought separately as it is not sold alongside the motor.
Minn Kota Ulterra uses an up and down push-button for adjustments, and it works with a GPS for saving fishing spots using the Spot-Lock function. You can record previously taken routes, so you don't have to physically control the boats by hand. You enjoy easy controls from the i-Pilote system through the touchscreen or the remote control. The virtual remote on a Hummingbird fish finder can also be used to control the Minn Kota Ulterra system. Furthermore, there is an inbuilt transducer with a special Mega Down imaging that provides crystal clear imaging as much as 125ft below your boat. This function helps you see what's underwater, and you will be able to see fish and other species or objects clearly.
This Minn Kota trolling motor is designed for freshwater boats, not saltwater. The electric steering boat motor is attached to the front of the vessel using a bolt-in bracket for better control and maneuverability. With Minn Kota Ulterra, your fishing expeditions are about to get a lot more exciting using the built-in features to increase your catch rate. Make sure you read the manual to understand how it works to enjoy better outcomes.
Pros
Advanced built-in features
Clear image down scanner to see underwater
Efficient transducer
Maneuverable
Cons
Newport NV-Series 36lb Saltwater Transom Electric Trolling Motor
8 used from $216.83
Free shipping
Newport Vessel's NV-Series is its most powerful trolling motor, best used for inflatable boats. This engine is perfectly designed to have the right weight-to-power ratio. It has a 36-inch shaft made of fiberglass with a tough nylon-coated transom mount. Newport's 5-point LED indicator allows you to see if the battery is charging correctly or at all. The mount is so designed to fit small and medium boats with a practical design and a corrosion-resistant body. The first thing you will notice with this saltwater trolling motor motor is its outstanding power and exquisite craftsmanship. Both combine to make it a worthy motor for boaters and anglers.
You can cut through the water on your boat without having to increase your speed if you don't want to. Newport is corrosion resistant, and despite being designed for saltwater, it can also work well in freshwater. The 24V motor provides power and efficiency to perform for several hours without overheating. Included in the mix is a 6 inches telescope hand tiller, a mounting angle, a 3-blade propeller, and a 5 LED battery meter. It has 8 speeds 3 reverses and 5 forward levers. You can even hit a maximum speed of 4mph with Newport depending on the size and weight of the boat. The wind and current may also impact your speed as well.
Newport requires 2 lead-acid motor batteries or a lithium deep cycle battery to function but rest assured that it will not draw too much power. When not in use, you can kill the engine to conserve energy, so your lithium battery doesn't run out. The maximum amperage draw of the motor is 48A.
Pros
Lightweight
Sold with a circuit breaker
Work in saltwater and freshwater
Variable speed functions
Cons
The height is not adjustable
Best 24 Volt Trolling Motor Buying Guide
The best trolling motor offers more than just speed and power; they also offer extra benefits to make your boating activities memorable. If you are scanning the market for a very good 24-volt motor for your boat, you are in luck. Today, there are dozens of brands, and these brands have different models you can choose from.
However, the challenge is not about options but knowing which to pick from among the options. To help you out, we have prepared a buying guide for you. If you follow our guide, you should be able to choose a motor that is the right fit for your boat.
Power
The first thing you should keep your eye out for is the power of the motor. Even if you have limited your choice to 24V trolling motors, you need to understand that two different brands or models may have different power outputs. So you should be looking for a electric trolling motor that can accelerate in a matter of seconds and also decelerate quickly too. A motor with a little extra thrust is not a bad idea; in fact, this can help you fish easily in windy areas or string tides. If it has extra features, the better.
Mounting Style
The mounting style is another thing to consider when shopping for a trolling motor. No matter how powerful the motor is, if its mounting system is not compatible with your boat, then it is useless. Most of the motors we reviewed above use the common bow mounting style. Bow mounts are easy to lower into the water, and we recommend this type or a stern mounting style. Let's review their advantages and disadvantages.
Bow Mounting: This is the most popular style because it is easy to maneuver and offers hands-free control. With a bow mount, you can make short turns easily and maneuver the boat in tight areas. They also have mostly foot pedals which is an extra advantage because you can steer the boat and fish at the same time. The downside to bow mounts is that they take up more space due to their large sliding hinges. Also, they were more expensive than stern mounts.
Stern Mount: This type is best for smaller boats since there is limited deck space to install sliding hinges. Sterns can be replaced with a standard outboard, and they are not maneuverable as bow mounts, but you still have complete control over speed and direction. Stern mounts are not the best for large boats, and they require one hand to control when the stern is stuck.
Another less popular option is a Transom mount style which is easier to install, takes up no space, and is relatively inexpensive.
Engine Mounting: There is the option of mounting the Motor on the outboard cavitation plate. This method may work, but it is not as maneuverable as the other options. But the upside to it is that you don't use any deck space, but it may affect the trolling motor battery life and Kong term durability of the engine.
So before you pay for any trolling motor, make sure it has the kind of mounting style you want. If you want a bow mount motor, don't buy a stern Mount version. Do your due diligence before you make buy the trolling motor.
Shaft Length
Another thing to consider when shopping for a 24V motor is the shaft length. The shaft is placed between the propeller, and the engine and length vary. Some shafts are as long as 35 inches and up to 54 inches. This part extends from the gunnel to the water, so the propeller stays submerged.
Before you decide on a trolling motor to buy, do your research to know the height of your boat and the gunnel. Remember that as a general rule, the propeller has to be underwater, so it doesn't draw air from the surface which will cause it to make much noise. You should also keep your prop submerged if you use your boat for angling. The recommended length is an extra 5 inches to keep the blades in their right positions.
Fish Finder Compatibility
If you use the fishing boat primarily for fishing, it will be in your best interest to buy a trolling motor that is fish finder compatible. Some of the best 24 Volt motors are compatible with popular brands like Hummingbird and Lowrance. If your motor is fish finder compatible, you will be able to increase your catch rate since you can easily track fish underwater.
Wireless
Having a wireless motor is a huge plus. Gone are the days when you had to steer boats by hand only. Today, technological advancements have made it easy to control boats without even touching the steering. If you want to be able to navigate your boat and fish at the same time, we recommend going for a wireless system. Wireless systems have remote controls and foot pedals for forward and reverse movements. You can also increase or decrease your speed. In addition to all these, you can also kill the engine by pressing a button without even going near the ignition. Controlling your boat from any position on board will make your boating adventure relaxing and fun.
Best 24 Volt Trolling Motor FAQ
1. Which mounting style offers more convenience and maneuverability?
The bow mounting style offers drivers greater control. Motors with this design are easy to control, and you can move within tight spaces. However, the Motor will take up more deck space. This mounting style is not the best for small boats.
2. Can I combine my trolling motor with a fish finder?
Yes, you can. However, note that not all trolling motors work with fish finders, and not all fish finder compatible motors will work with all fish finder models. So make sure the one you buy is compatible with the fish finder model you wish to use.
3. Which battery type is used to power onboard accessories?
Deep cycle batteries are used to power onboard accessories. You can also use a dual-purpose battery too, but this type is not as durable as a deep cycle battery. Avoid connecting your accessories to a starting battery.
Last updated: 23/10/2022