RavenousTravellers may earn a commission on sales through our affiliate links in this blog post. This commission allows us to run our research, testing process and continue to provide our readers the most comprehensive information on kayaks, boats and related products. See our
disclosures
.
The demand for inflatable boats has steadily increased over the last decade as boaters have from to trust the durability and safety of these mini vessels. This increased demand has stimulated a corresponding supply, and today, buyers have an abundance of options to choose from. Having so many brands offers buyers the opportunity to pick boats based on their preferences, needs, and budget.
But despite the numerous brands available today, many people struggle to make the right choice. If you have little or no idea about inflatable boats, you run the risk of going for a low-quality brand, and that is not something we want.
So to help you out, we review the best inflatable brands in saw today. Feel free to read through our shortlist to find a boat you like.
Intex
Intex is one of the most popular boat brands in the market, and their boats are some of the best money can buy. If you are looking for budget friendly boats, this manufacturer is your go-to boat maker. One of their best boats is the Excursion which can accommodate 5 people. It has a very strong rig and can handle the human weight, including the luggage they bring for the voyage.
Intex Excursion is produced tough fabric that is scratch-resistant. The seams are also tightly fitted so they will not lose due to the high-quality glue used to bind the fabrics together. There is a Boston valve, as well as oar holders, grab lines and a safety auxiliary chamber.
The Excursion also has an inflatable hull, and each seat has a backrest. For those who like to fish, the fishing rod holders are some of the best we have seen to date. These design themes are common in all the Intex inflatable boats we have seen. Other Intex boats are the Mariner 4 and the Challenge K1. If you want a smaller version, any of these two will suffice.
The durability of Intex boats is known in the boating world; that is why people who want to buy vessels that will last for years prefer to buy Intex instead of any other brand.
Creek Company
Another popular brand that boaters can't get enough of is Creek Company. Creek Company boats are highly rated in the industry, and if used properly and maintained as required, their boats can last for 10 years and more. The Colorado boat manufacturer has been making inflatables for more than 20 years now, and in that time, they've blessed the industry with different models.
Their boats have float tubes that keep the vessel above water, and some of their pontoon designs are the best in the world. Another thing we found about the Creek Company boat is its lightweight design. This allows them to reach top speeds that only very few rivals can match.
They are also very versatile in the sense that you can buy them for different uses; you can use the same boat to say and fish or just to relax in the middle of calm waters. Fly fishers will also enjoy using Creek Company boats because of how they are structured. In terms of durability, they only sell triple-layered inflatable boats, which further increase their durability.
The only downside with Creek Company is that they do not use Hypalon, only PVC fabrics which best explains why their boats are relatively cheap compared to other brands. But the good thing about their design is the triple layering which reduces the rate of wear and tear.
Newport Vessels
Newport is a specialty boat manufacturer that specializes in paddleboards and dinghies. This manufacturer has improved their technology by concentrating on only two designs, and they have improved their technology over the last few years. Their vessels have proven to be durable, reliable, and sleek on water. If you prefer larger than average dinghies, you may want to go for a Newport's vessel.
Despite their big sizes, they can move swiftly as smaller vessels can. Furthermore, buyers have a luxury of options since they have different models available. Some are as small as 8ft, with the largest one being as long as 12ft. Similar to the Intex Excursion, they have a larger boar; this can hold you to 6 people at a time, though smaller vessels with lesser capacity still exist.
Newport inflatable boats have a unique floor made of hardwood for stability, but there are other options with air floors. Similar to Creek Company boats, Newport makes their boats with triple layering and anti-abrasion materials suitable for different weather. For every boat they sell, they attach a 2-yeat warranty to it, which can be activated by a buyer if the unit delivered to them is bad or has scratches.
Sea Eagle
One of the best inflatable boats is Sea Eagle. For buyers looking for quality vessels that will stand the test of time, Sea Eagle is one brand they can not overlook. Every single Sea Eagle vessel shipped to the buyer from the factory is exquisitely designed and tested for quality. Their dinghies and pontoons float well on water due to their hull placements.
If you have never steered an inflatable boat before, you will have no problem with Sea Eagles because of its flexibility. Founded in 1968, the company has been at the forefront of developing marine designs that have been accepted as a standard practice in the industry. With hundreds of thousands of boats sold over the last 40 years, you can be sure that this is one manufacturer worth its onions.
Every unit they sell has a 180-day risk-free cover, so if it doesn't meet your specification, you can return it and ask for a refund. Furthermore, they attach a 3-year warranty to their vessels as well, so you see that your investment is protected.
Some of their models include pontoons, canoes, paddleboards, and dinghies. Of the lot, the 275 frameless pontoon and the 370 kayaks are their most sought-after vessels. Also, they differentiate their vessels based on packages. There are cheaper options that do not have a featured package, but the more expensive package options have rod holders, seats, and other value-added features. So note that Sea Eagle offers free shipping.
Sevylor
Sevylor is a leading manufacturer of inflatable boats in the world, and there is a community of boaters in the US and Europe today who only use Sevylor products because they are known for their quality. This company is one of the oldest boat manufacturers in the world and is still in business today. Founded in the city of Vitry, France, in 1948, they offer an expansive product list that only very few manufacturers can boast of.
They make dinghies, kayaks, and rafts with different size dimensions. They also have sets of padded boards that can compete with other brands too. The main reason why buyers prefer their boats is that they are very cheap. But cheap doesn't mean poor quality since all their boats are durable. One of their best-selling boats is the Sevylor Hudson.
Advanced Elements
Last but not least is Advanced Elements. The first thing you will notice with this manufacturer's offering is that all the boats have a distinct design. Once you see an Advanced Elements boat, you will just know immediately.
This is one brand that offers value for money if we are being honest. Once you shell out an amount for a vessel, you are sure of getting your money's worth. Many a buyer has bought an Advanced Elements boat and used it for many years.
This is because they use quality fabrics and very good glue. We also believe that their high-tech production technology accounts for why their vessels are so good. Some of their best models include Advanced Frame Expedition, Convertible, Angler, and the AE1012-R.
Best Inflatable boat brands FAQ
How much is an inflatable boat?
The price of an inflatable boat is not cast in stone. Different brands price their boats differently.
What are the major factors that influence price?
Different factors influence price, such as
The fabric
Size
Brand
Capacity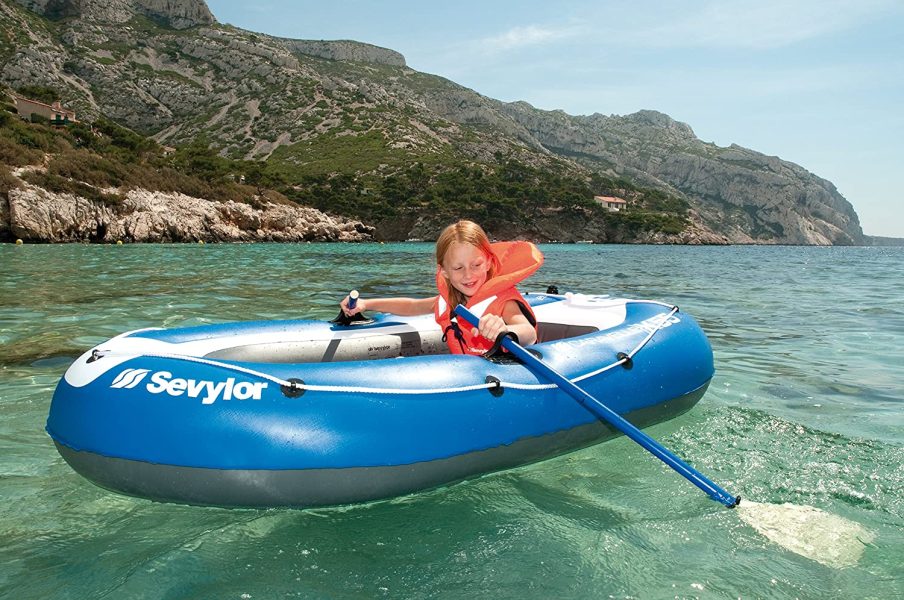 Which is the best inflatable boat for watersports?
If you plan to buy an inflatable boat of watersport, we recommend kayaks. Kayaks are lighter and faster than other versions. Moreover, they are designed for swift movements, and they are best for rough and rocky terrain.
Which is the best inflatable boat for fishing?
A pontoon boat is an ideal boat for anglers. You can also use a pontoon boat for sightseeing. The top brands include rod holders for anglers.
Final Thoughts
There are so many inflatable boat manufacturers in the world, but the brands mentioned in this article are some of the best in the business. They have been able to achieve tremendous economies of scale, having been in the industry for years, and many have come to trust the quality of their products. If you asked our advice on which brand to buy, we would recommend any of them.
Last updated: 17/04/2022